"WHERE HEEL PAIN STOPS"
Are your heels causing you pain and discomfort, intensifying with every step? The balls of your feet endures the most trauma when wearing heels, but we've got the solution! Our 2.0 Forefoot Slip On Cushions absorbs the shock and relieves the pressure, taking wearing heels to a whole new level of comfort.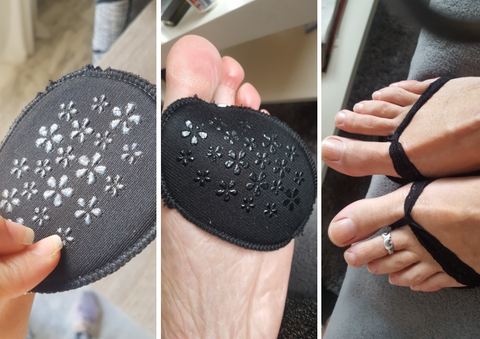 WHY YOU'LL LOVE IT:
Thick padding for maximum comfort
Prevents pain in the ball of foot
Breathable & Stretchy
Stops feet from sliding forward
Prolongs high heel wear
Multiple-use friendly
"WEAR HEELS 4X LONGER WITHOUT PAIN"

"Walking in heels has never been this painless! These cushions are exactly what I've been needing. I couldn't last past 1 hour in heels without feeling like my feet were on fire, but now I can last all night! I've never had cushions that work this well!"
- Natalie J. - customer review

EVEN MORE BENEFITS:
Invisible: quite seamless and most times will be completely hidden and unnoticed without crowding your shoe.
Protective: Protects against burning, callus and irritation from rubbing against shoe interior.
Anti-Slip: Prevents feet from sliding forward in your shoes and stays in place for best results.
Re-usable: No hassle of peeling and sticking in the right spot, easily slip on or off to use with any shoe.
SPECIFICATIONS:
Material: Fabric
Color: Black, skin color
Fabric name: Cotton
PACKAGE INCLUDES:
1x Metatarsal Forefoot Pads