If your dog loves nose-work activities or snuffle mats, this snuffle ball will be a great addition to their toy collection! Wrap treats inside the fabric pieces and stick it inside the ball for your dog to forage. This fun snuffle ball will keep your dog entertained and mentally stimulated!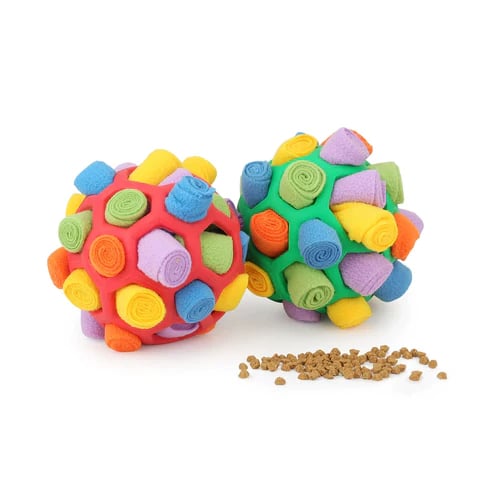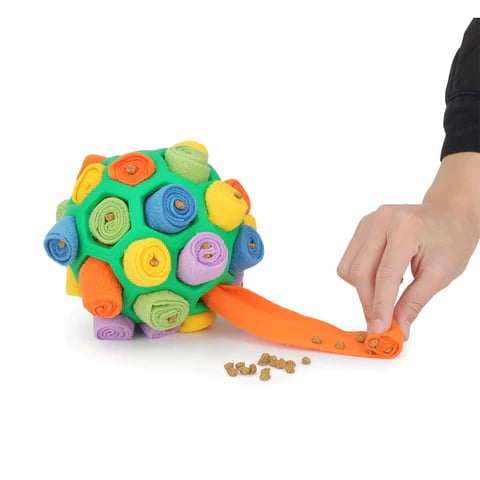 Material: rocking velvet + TPR rubber PETPE

Note:
This toy is recommended for nose work games and not as a chew toy. Please supervise or remove the toy after your dog has finished playing with it.
FAQs
Question: What size is the Ball Dog Treat Dispenser?
The Ball Dog Treat Dispenser measures approximately 4.7 inches in diameter, making it suitable for small to medium-sized dogs.
Question: What type of treats can be used with the Snuffle Ball?
It can be used with a variety of small treats, including kibble, small training treats, or diced pieces of dog-friendly fruits and vegetables.
Question: Is the easy to clean?
Yes, the Snuffle Ball is easy to clean. It can be hand-washed with soap and water or placed in the top rack of a dishwasher for easy cleaning.
Question: Is the Snuffle Ball safe for dogs to use?
Yes, the Snuffle Ball is safe for dogs to use. It is made with durable, non-toxic materials that are safe for dogs to play with and chew on.
Question: Can the Snuffle Ball Treat help with dog training?
Yes, it can be used as a training tool for dogs. It can help encourage positive behavior, provide mental stimulation, and teach dogs to use their natural instincts to hunt and forage for food.
Question: Can the Ball be used for aggressive chewers?
Yes, the Snuffle Ball Dog Treat Dispenser is recommended for aggressive chewers or dogs that like to chew on toys.
Question: Can the Snuffle Ball help with reducing dog anxiety?
Yes, the Snuffle Ball can provide mental stimulation and help reduce dog anxiety by encouraging positive behavior and providing a distraction from stressful situations.