The Perfect Boredom Buster!
Keep your kids away from screens and let them discover the little builder inside them!
Perfect for kids ages 1-10, The Creativity kit boost the development of several major factors that will influence the rest of their lives, and is a great investment for every child's future!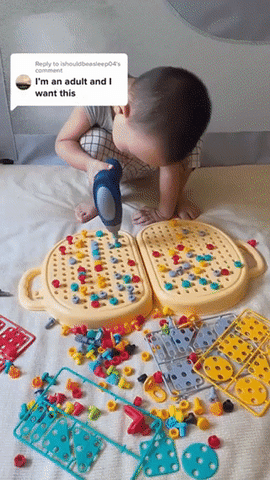 Wonderful ideas, creative DIY, more convenient storage, this toy is not only high in appearance,
but also more powerful in performance. When children are playing, it can improve children's brain thinking ability,
toy materials are safe, and simulation tools are safer and more convenient to create. Creative assembly , Add color to children's childhood.
Cultivate children's learning ability and hands-on creativity, let children explore the fun of disassembly and assembly,
which is conducive to children's enlightenment and cognition, free creation, and exercise children's hand-eye coordination ability.
Develop a Creative Mind!
The possibilities are endless! Children will be fully immersed in building their design, and the problem solving skills needed to bring their ideas to life. This will provide benefits for the rest of their lives.
Large-capacity storage space to prevent loss of toy accessories, rich colors, exquisite workmanship,
children like to play, develop intelligence, improve concentration, and exercise baby's hands-on ability