⭐ ⭐ ⭐ ⭐ ⭐ "This Full Body Armor Motorcycle Jacket is a total game-changer! It is super tough and resistant to wear. I love the adjustable straps and removable spine armor for that extra safety. Plus, it's surprisingly lightweight and comfortable to wear. Even during intense rides, the ventilation keeps me cool. It's a must-have for serious riders. Trust me, it's worth every penny!"
- John D., Verified VT Customer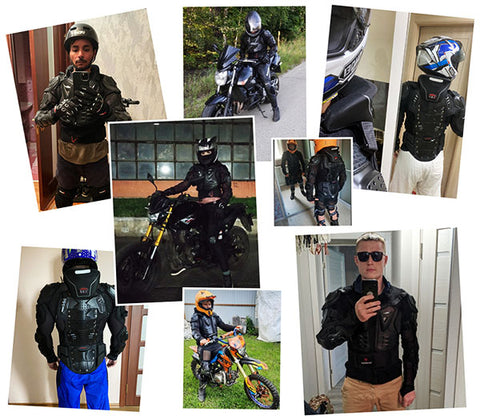 NO MORE FEAR OF SAFETY
Safety Redefined, Fear Left Behind
Are you a motorcycle enthusiast who values safety and protection during your rides?
Look no further!
Because we have the perfect solution for you.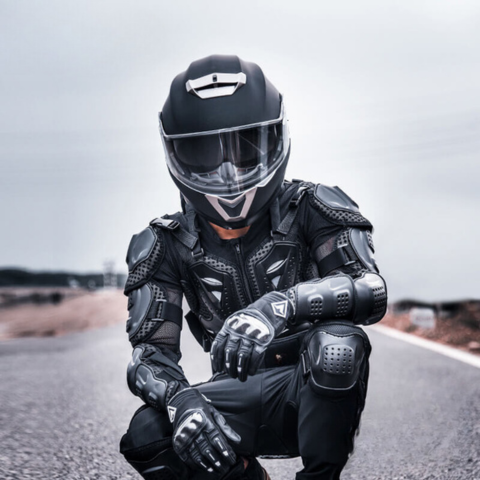 Our Protective Armor Jacket is designed with your safety in mind, offering maximum protection without compromising on comfort or style.
BUILT TO LAST
✅ Constructed from high-density wear-resistant nylon, this armor is built to withstand the toughest conditions.
✅ The moveable liner allows for easy cleaning, ensuring that your gear stays fresh and odor-free.
✅ With multiple large vents , you'll experience optimal ventilation, keeping you cool and comfortable during those long rides.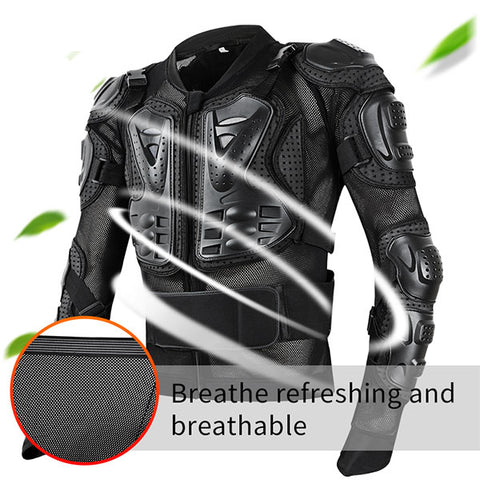 WHY DO YOU NEED IT?
This full body armor is truly a marvel!
✅ It features : a back protector, shoulder cups, elbow cups, forearm protector, and chest protection - all cleverly attached to a breathable mesh shirt!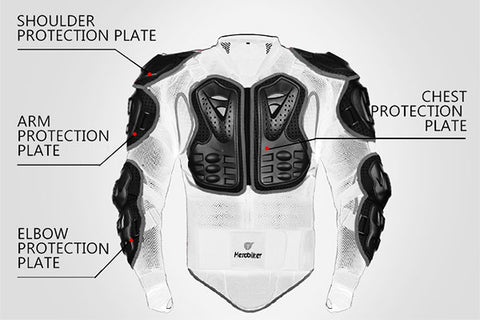 ✅ The lightweight yet durable stretchable Lycra/mesh net fabric combined with high impact injection molded plastic provides the perfect balance between flexibility and strength.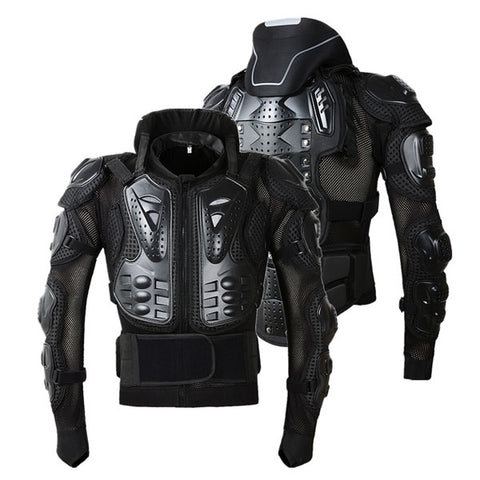 ✅ Easy to put on & off with full zipper front closure,
✅ Adjustable straps throughout the arms and shoulders ensure a customizable fit that suits your body perfectly.
✅ The removable spine armor with a tail protector adds an extra layer of security.
✅ The wide elastic waist belt with hook & loop adjustment guarantees a snug and comfortable fit.
Say goodbye to armor that shifts and moves during your rides – our thumb loops keep the arm protection securely in place.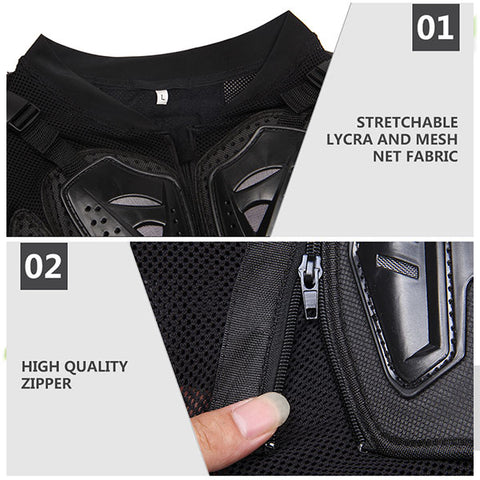 Our Super Quality Armor is not limited to motorcycle riding alone.
It can also be used for various activities such as bike riding, skiing, skating, and other entertainment conservation projects.
It's a versatile piece of protective gear that adapts to your adventurous lifestyle.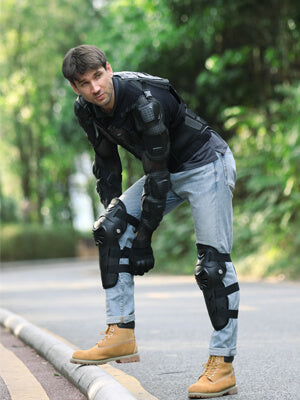 ✅ Designed for both men and women, our armor is available in multiple sizes – S, M, L, XL, XXL, XXXL and 4XL.
The unisex design ensures that anyone can enjoy the benefits of this exceptional product. The sleek black color adds a touch of sophistication, making you look stylish while prioritizing your safety.
✅ The Full Body Armor Motorcycle Jacket is made from a combination of high-quality materials such as Polymer, EVA, Nylon, and PVC. These materials work together to provide superior protection and comfort, allowing you to ride with peace of mind.
When you purchase our Motorcycle Racing Protective Armor Jacket, you'll receive one jacket that includes all the necessary components for full-body protection. Each package includes a meticulously crafted armor jacket that is specifically designed for moto enthusiasts like you.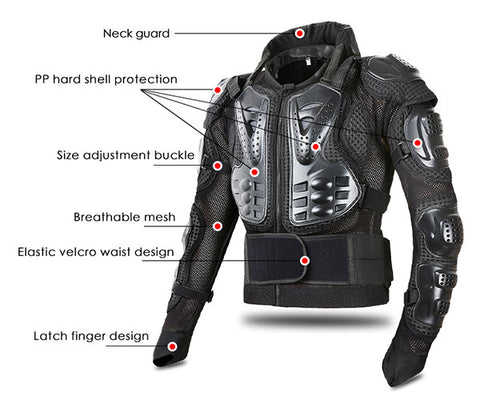 Invest in your safety and enjoy the thrill of the ride without compromising on protection.
Sizes :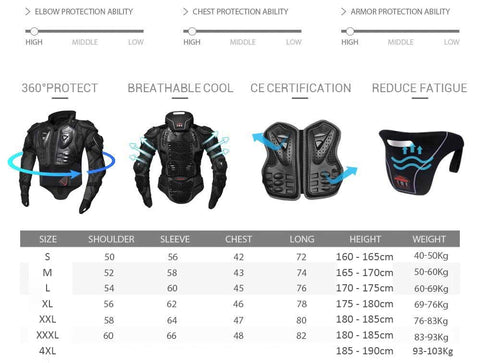 Order your Full Body Armor Motorcycle Jacket today and experience the confidence and peace of mind that comes with wearing top-notch protective gear. Stay safe and ride in style!