"Open when..." letters - perfect gift for someone going away or as a thoughtful anniversary gift for your loved one to remind them how much you love them.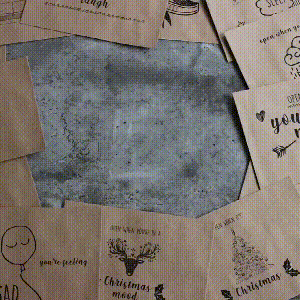 Open When Letters - perfect as an anniversary gift, long distance relationship gift, Christmas gift, Valentine's gift, or just a cute present for you friend's birthday.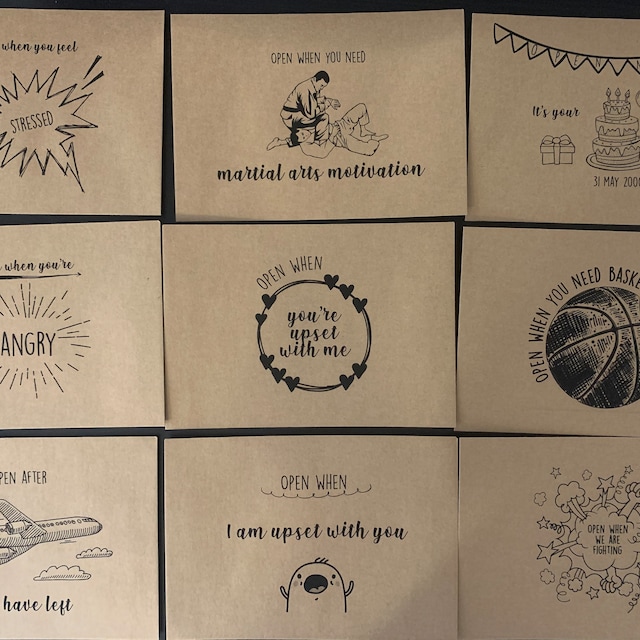 The ideal gift for young adults leaving home for the first time or somebody who is going through a difficult time.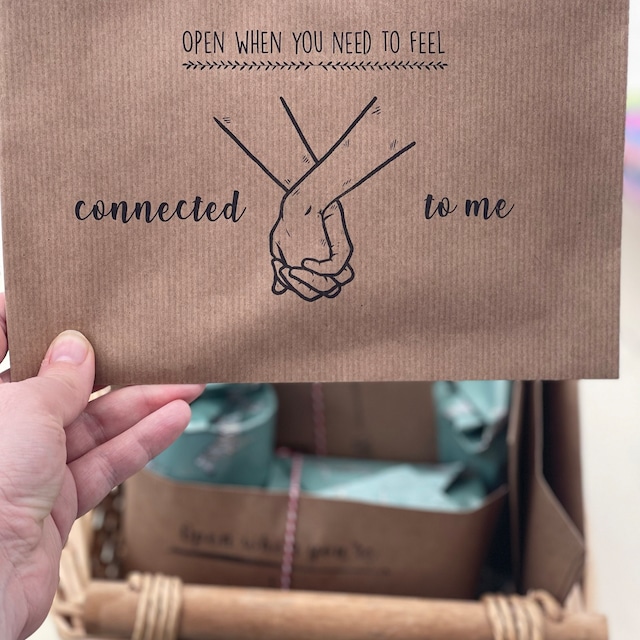 The envelopes are empty. It is up to you what to put inside, it could be sweets, chocolates, DVDs, photos, letters, necklaces - anything that could fit in and make your loved one smile. Envelopes are C5 size and able to fit in items size of a DVD with a box. You can make it as cheap or as expensive as you want!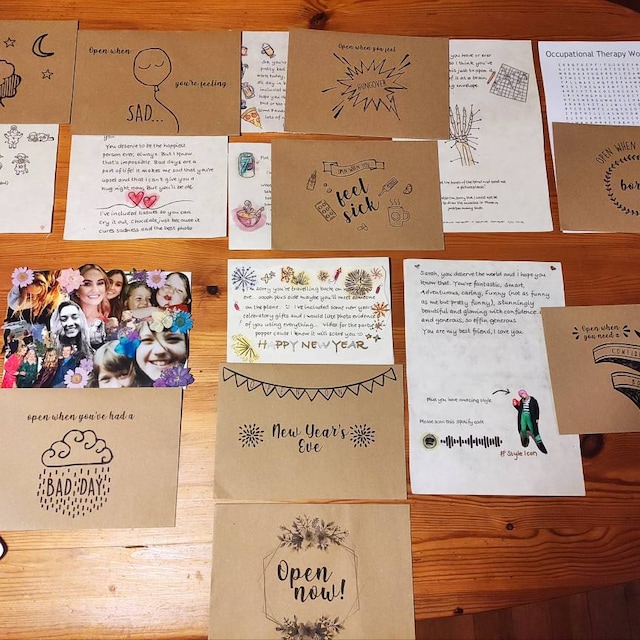 You will get a set of 22 envelopes for different purposes. Below we have given some suggestions for reference only:
1: Open now! (should explain what this gift is about, could include photos and a letter, some treats)

2: Open when you miss me (what to put inside: photos, funny inside jokes, a letter)

3: Open when you're feeling sad (what to put inside: chocolates, treats, jokes, motivation quotes, funny photos, link to a playlist)

4: Open when you need a confidence boost (what to put inside: motivational quotes, a letter)

5: Open when you're in a mood to get sh*t done (what to put inside: a notebook, cute pen, stationery items)

6: Open when you feel lonely (what to put inside: photos with nice memories, a letter)

7: Open when you're having a night out with friends (party poppers, balloons, miniature bottle of alcohol, pom poms, make up, jewellery)

8: Open when you're having a cosy night in (food voucher, dvd, snacks)

9: Open when you feel hungover (an antidote to alcohol)

10: Open when you need a good laugh (funny photos from back in the day, nostalgic items)

11. Open when you need fitness motivation (a workout plan, protein bar)

12. Open when you can't sleep (lavender, sleepy tea, a book, photos)

13. Open when you've had a bad day (face mask, bath salts or a bath bomb)

14. Open when you're celebrating an accomolishment (anything crafty - like pom poms or a puzzle)

15. Open when you're in a sexy mood (sexy photos of yourself :) )

16. Open when you feel sick (some medicines, honey sachets, herbal tea sachets)

17. Open when you feel lost (photos, motivational quotes, gratefulness diary, a link to playlist)

18. Open when it's your Birthday (birthday card, photos, balloons, confetti)

19. Open after you have left (a letter, photos)

20. Open when you need to know how much I love you (love letter, photos with notes on the back of each of them why you love that person)

21. Open when you're in a Christmas mood (Christmas chocolates, Christmas scent bath bomb)

22. Open when it's Christmas (Christmas card, chocolates, socks, fairy lights, jewellery)
made from:
C5 ribbed kraft envelopes (to fit A5 size paper) - peel & seal, 100gsm.

dimensions:
162 x 229mm